One of the biggest challenges that commercial companies face in their business activities
is avoiding credit risks with clients. The environment surrounding financial institutions is
also changing rapidly, and it has become necessary to diversify revenues.
Our company can provide guarantees against the credit risks that arise in business
activities. Using our services to avoid credit risks has helped commercial companies to
achieve stable management and rapid growth. Financial institutions have also used our
services and have succeeded in increasing and stabilizing revenues through their existing
financial services while introducing new services.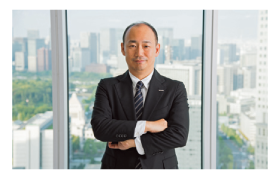 President and CEO Masanori Eto
In a similar vein, we undertake the risks of business companies and financial institutions and transfer them to financial institutions seeking a source of revenue. We believe that we play a key role in the market for credit risks by undertaking credit risks and successfully transferring them.
We plan to grow as a company that continuously develops new financial products by pursuing our expertise in undertaking credit risks, developing our market making functions, strengthening partnerships with influential companies, and constantly handling various kinds of credit risks in order to develop and expand in the future.
Our foremost priority is for our clients to be able to achieve their new goals by using our services, and therefore we are convinced that we will be able to grow as the frontrunner in undertaking and transferring credit risks.
Our executives and all our employees will work vigorously for your business, and we humbly ask for your further support in the time ahead.